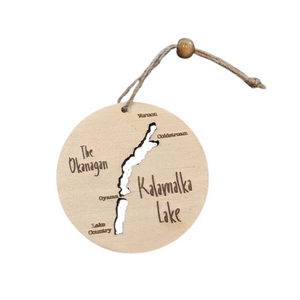 Glow & Behold
Kalamalka Lake Ornament
Regular price
$7.00
$0.00
Unit price
per
Glow & Behold is a laser wood-cutting artist based in Kelowna, BC.
"I am a Canadian mountain girl with an analytical mind and flair for creativity. I graduated with distinction with my Bachelor of Design in 2021. After 5 years of hard work and dedication to my education in graphic design, I decided to get back to my creative hand-making roots and incorporate my stellar design toolkit to offer skillfully designed and crafted laser-made products. Thus, Glow & Behold was born.
I am passionate about making the world a better place through design solutions, helping people to be their best selves, and building community. I work with non-profits and continually volunteer in the community.
We believe in helping others by empowering them through financial aid, mentorship, business collaboration, and community building. There are so many people who need a helping hand in our own backyard and abroad. Because of this, each month a portion of every purchase is invested in individuals and organizations who demonstrate financial need and align with our values of mentorship, entrepreneurship, and community building."
Take a look at Glow & Behold's local and global charity work here.
---