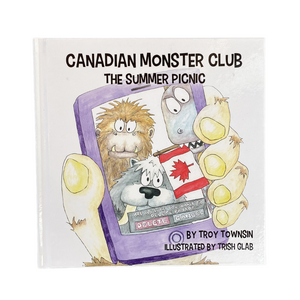 Sandhill Books
Canadian Monster Club - The Summer Picnic
Regular price
$13.00
$0.00
Unit price
per
Every Canada Day monsters from each province and territory gather to celebrate the Canadian Monster Club Summer Picnic. They play Canadian games like log-rolling and swamp hockey, they get into a huge food fight and their disgusting habits lead to some very messy results!
Each friendly, fun-filled monster is based on real Canadian folklore, a First Nations legend, or an actual historical sighting. There are several monsters that you may be familiar with such as Ogopogo and Sasquatch but others you will likely be introduced to for the first time.
Meet Mishepishu, an underwater panther based on ancient cave paintings from Quebec and Chenoo, an ice-giant legend of the Mi'kmaq of Nova Scotia, along with over a dozen other incredible Canadian monsters.
There is a hidden frog in every picture and the book contains catchy chants, look-and-finds, and plenty of Canuck humour.
Also available in the series: Ogopogo and Sasquatch
---