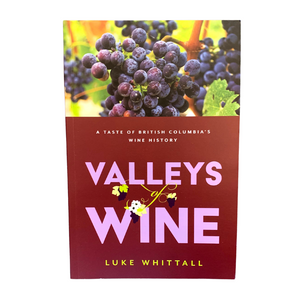 Sandhill Books
Valleys of Wine: A Taste of British Columbia's Wine History
Regular price
$23.00
$0.00
Unit price
per
The story of a particular wine's history and flavour can vary, sometimes quite significantly, from one winery to another. In British Columbia's Okanagan Valley, these stories can be the result of diverse geology, different aromatic ingredients, production methods ... or maybe just the winery owners themselves, originating from different backgrounds and careers, each with their own interpretation of the wines they mythologize.
With so many stories, it can be hard to separate the tall tales from the terroir, and Valleys of Wine is the first comprehensive text in decades to look at the actual history of Okanagan wine — not as a guidebook, but a regional history examining the trends and industry regulations that have continued to shape a thriving part of BC's economy.
Luke Whittall takes a detailed look at the evolution of BC wine from the earliest vines in the mid-19th century, to the estate wineries that have elevated British Columbia's wines to the international stage.
With insight, wit, and exhaustive research, Valleys of Wine demonstrates that great wine is exceptional for the very reason it can seem so elusive: you can't understand it fully without taking into account the people and places who make it what it is.
---