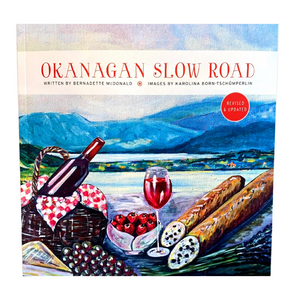 Sandhill Books
Okanagan Slow Road
Regular price
$23.00
$0.00
Unit price
per
A book that invites you to slow down and explore the Okanagan Valley from a local's point of view.
Whether it's spying a rare canyon wren, cycling the historic Kettle Valley Railroad across heart-stopping trestle bridges, or hiking through fields of spring flowers, travel alongside the authors as they draw you into the exquisite, unforgettable experience of savouring one of Canada's most beautiful destinations.
Generously offering a compilation of the Okanagan Valley's best food, drink, and recreation spots, Okanagan Slow Road reveals treasured local culinary secrets: crusty double-baked bread from rural bakeries, lavender-infused pepper from hillside farms, and dark red cherries from bountiful orchards. And, of course, the world-renowned wines—after all, what would delicious local food be without famous vintages from the unique Okanagan terroir?
First published in 2014, this completely updated edition of Okanagan Slow Road includes a list of the many wineries worth visiting as well as a list of the area's farmers' markets.
---